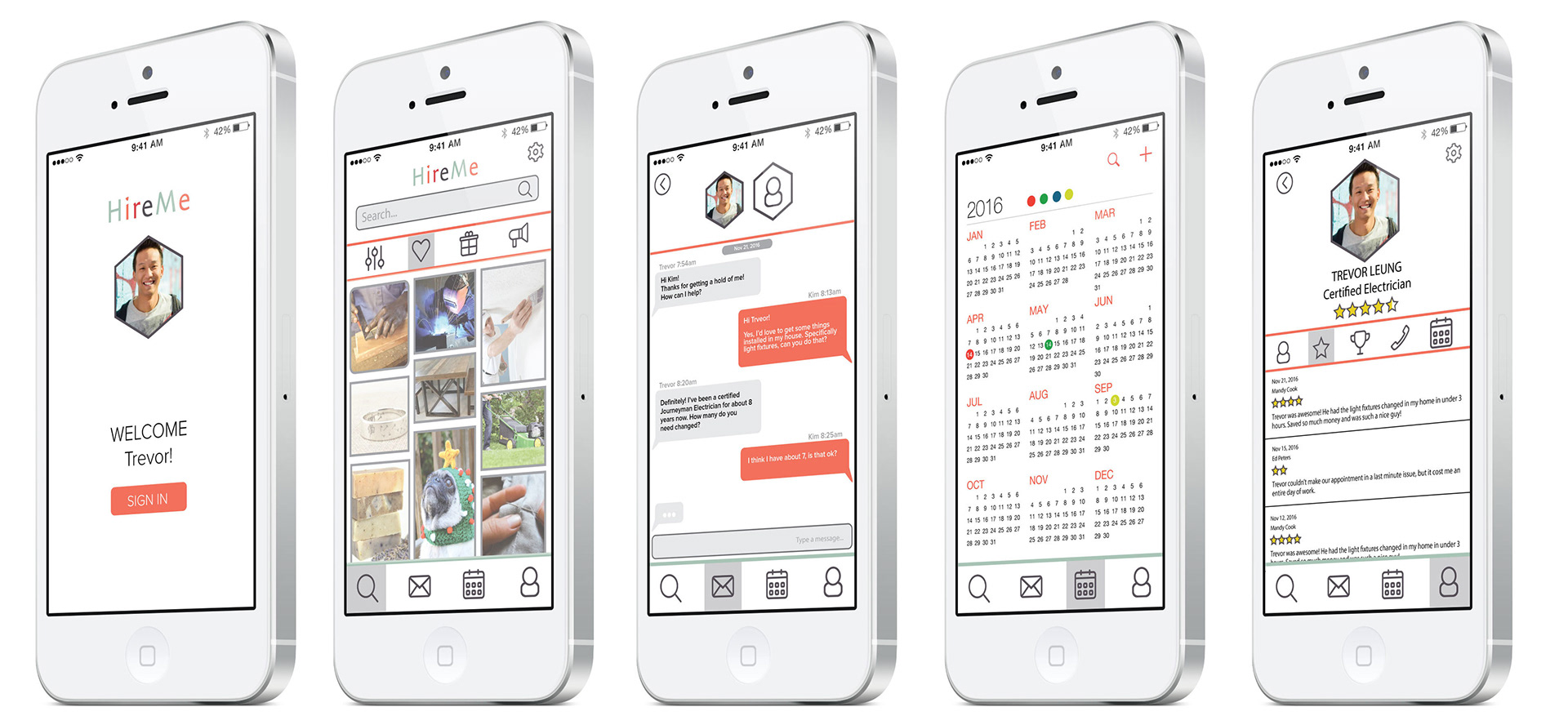 People who want to work for themselves need a way to promote their skills by using a network in order to grow their business.
HireMe is an app that creates a network of users wishing to work for themselves. It is a directory of; people with skills that can be taught, homemade products that can be sold, and/or professional services that can be provided. You type in a keyword into its search engine and it returns a list of people in your desired area that will provide you with what you are looking for. 
Each profile page has useful information such as; a description of work to be provided, images for product to be sold, reviews from previous customers, geographical coverage, ways to contact the user, etc. By using HireMe, you are attaining a much more useful way to locate and contact the perfect person to help you with your project, you are also attaining a far better way to advertise your own business and even the ability to exchange these services interchangeably between users as an alternative to monetary payment.     
SURVEYING :
 
By surveying 85 people with 10 specific questions (please see:
SurveyMonkey
results) I was able to determine several things about the usage of the app: The main target audience is Males and Females between the age of 25-44. People from several countries; in big cities, and small towns found the app useful to them. 65.88% of all respondents already are, or want to work for themselves. Further surveying from the same 65.88% respondents at the prototype stage would be favourable in terms of the design of the HireMe but was not feasible at this time.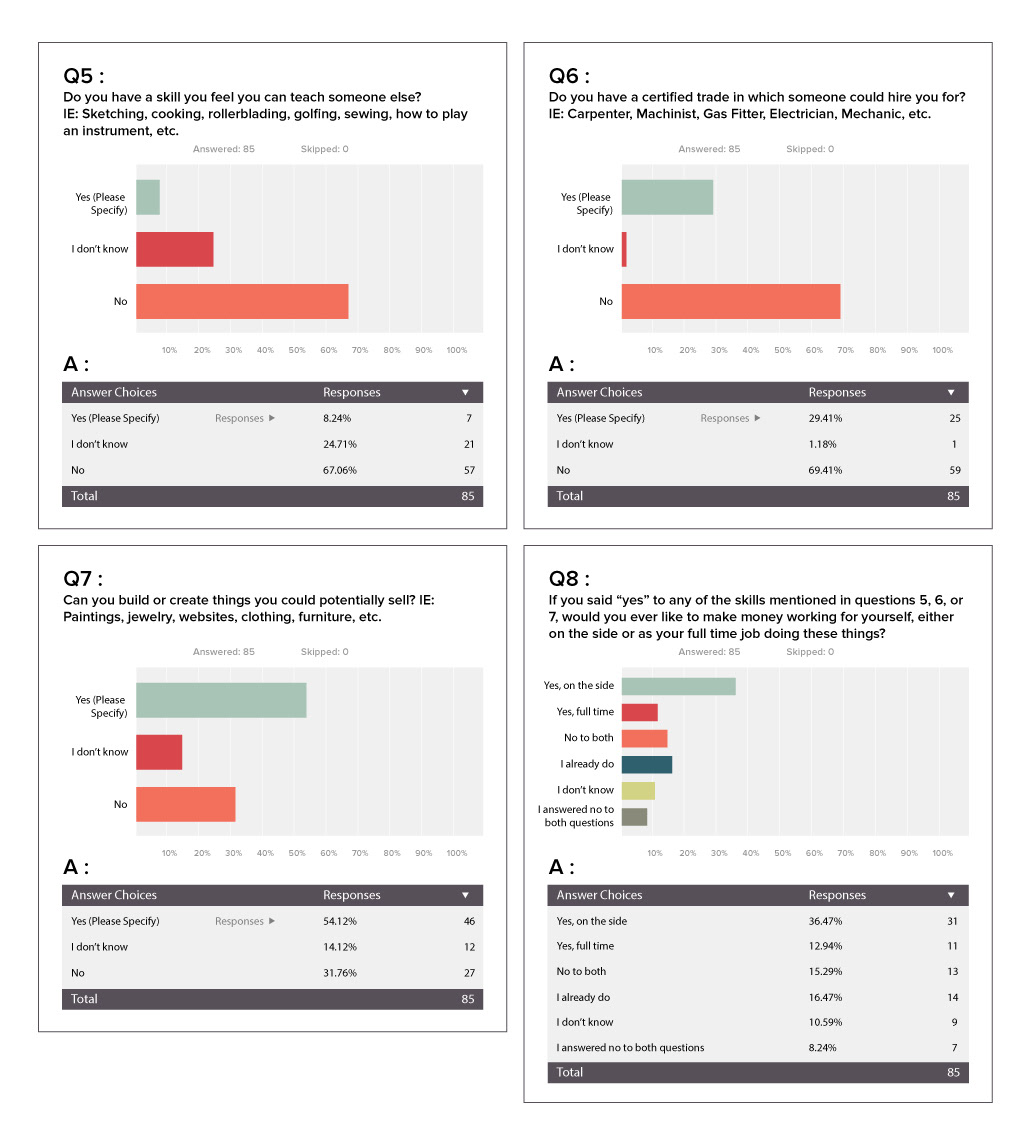 PERSONAS :
Two major groups or "personas" were produced. One that wanted to full-on start their own business full time and exchange services with other trades people, and one that wanted to work for herself on the side and shop for other products. Both between the ages of 25-44, both with goals of producing earnings and both finding the app trustworthy and very useful.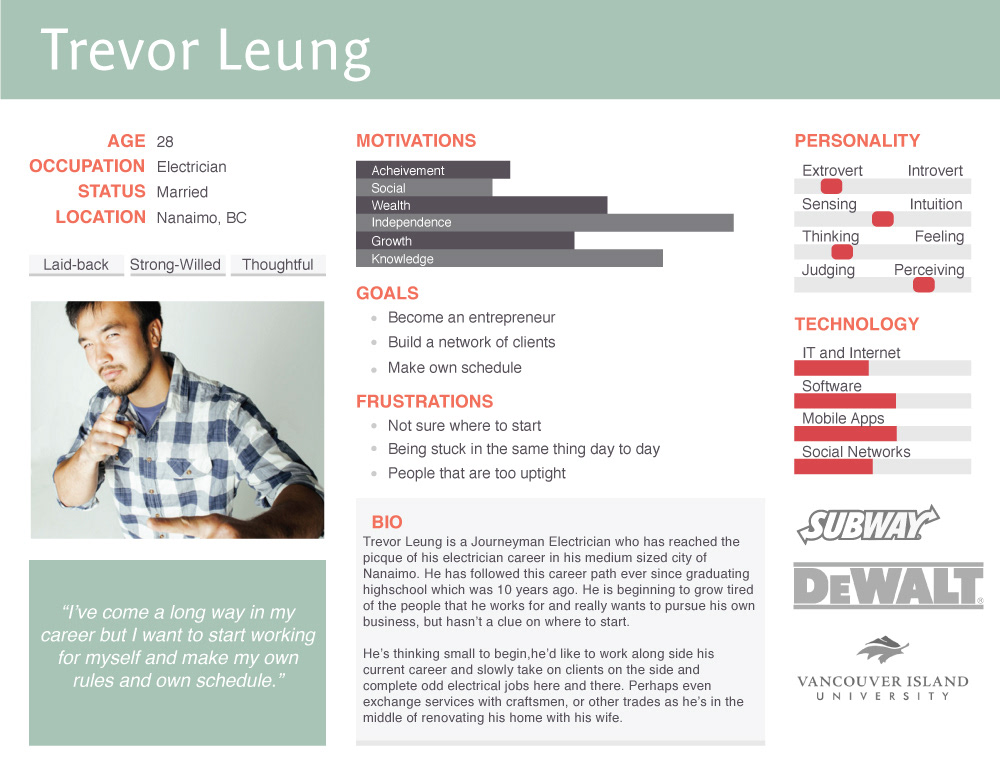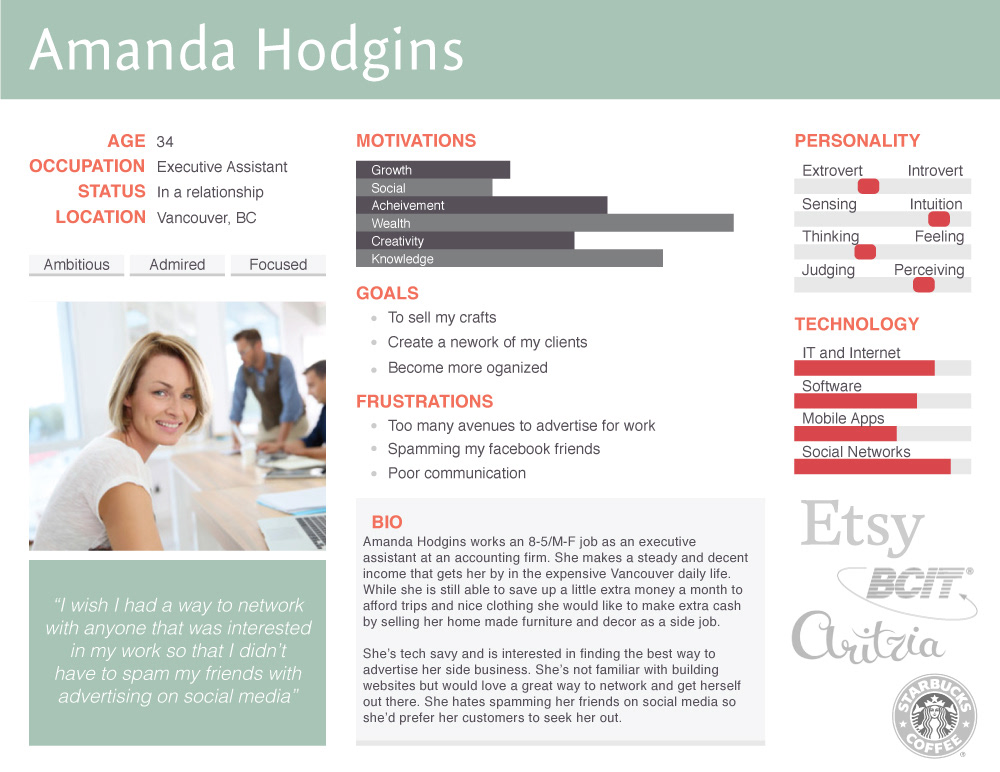 CARD SORTING :
Roughly 20 people responded to this survey. They were asked to sort each card with their own logical thought process. The results in figure B were the most popular response and therefore the apps site map was determined by this.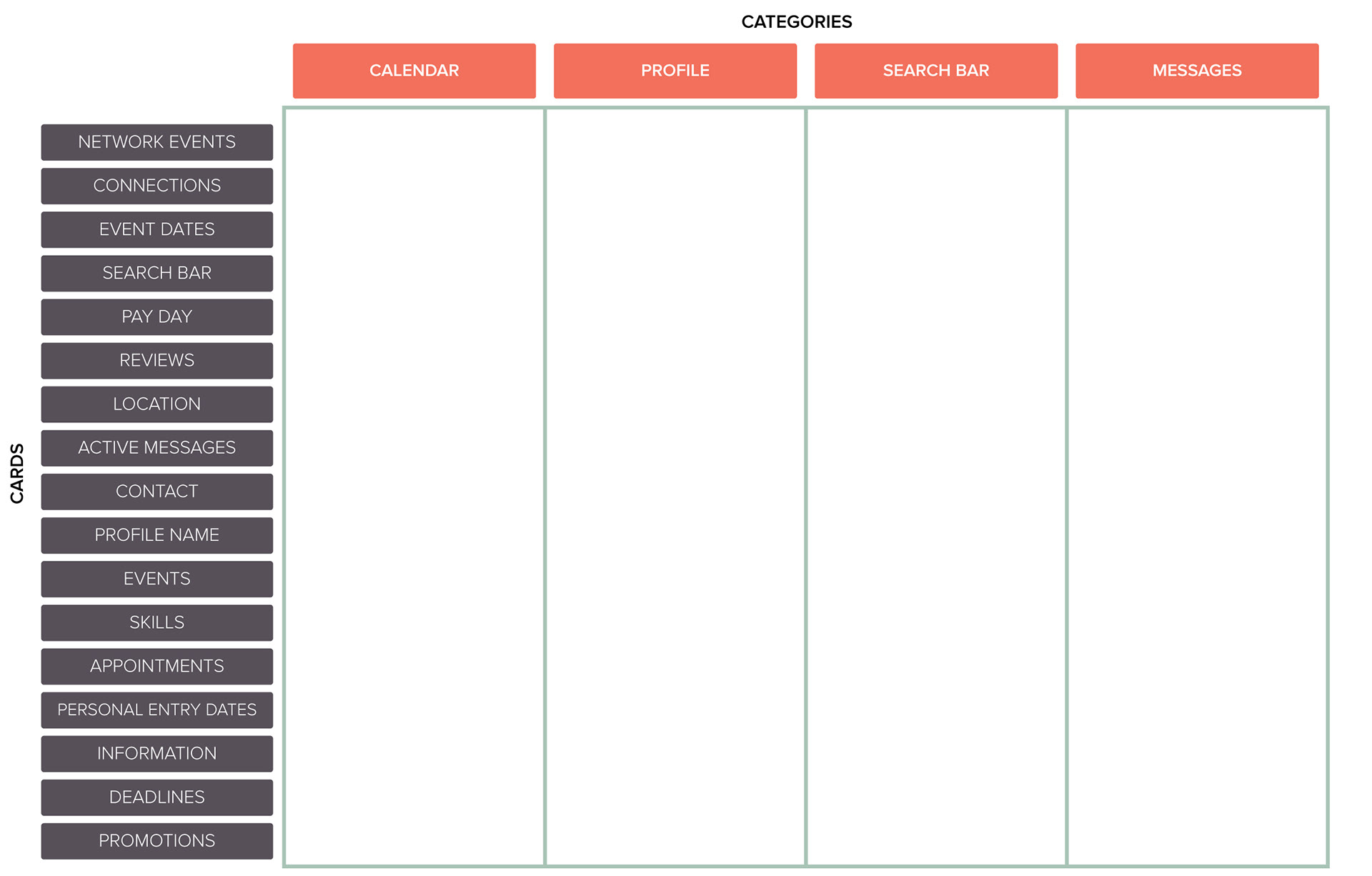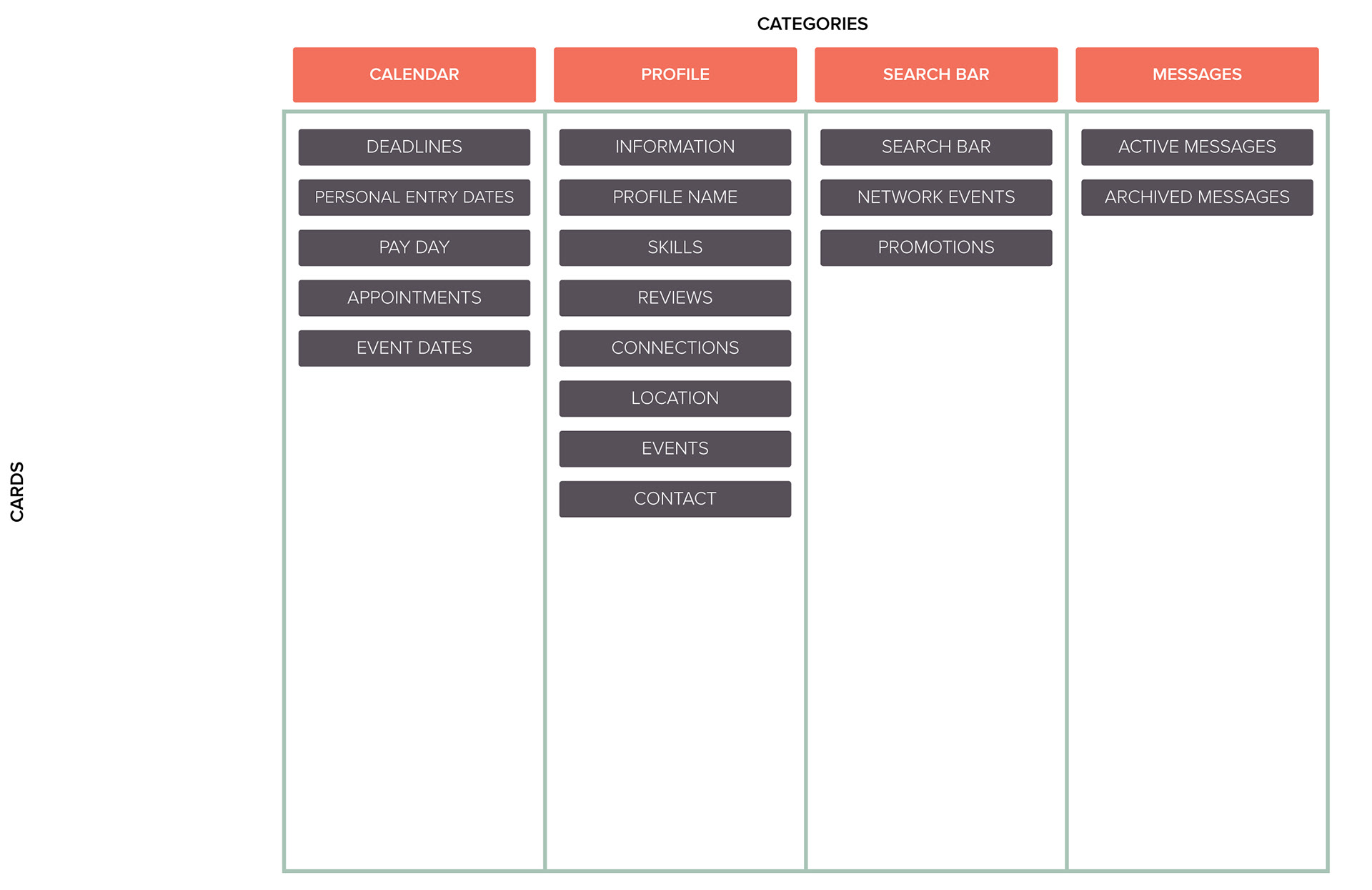 INFORMATION ARCHITECTURE :
This site map was designed based on OptimalSort and best design practices. It is useful to draw out the layout of the site to visualize how each link and page will be placed throughout the app.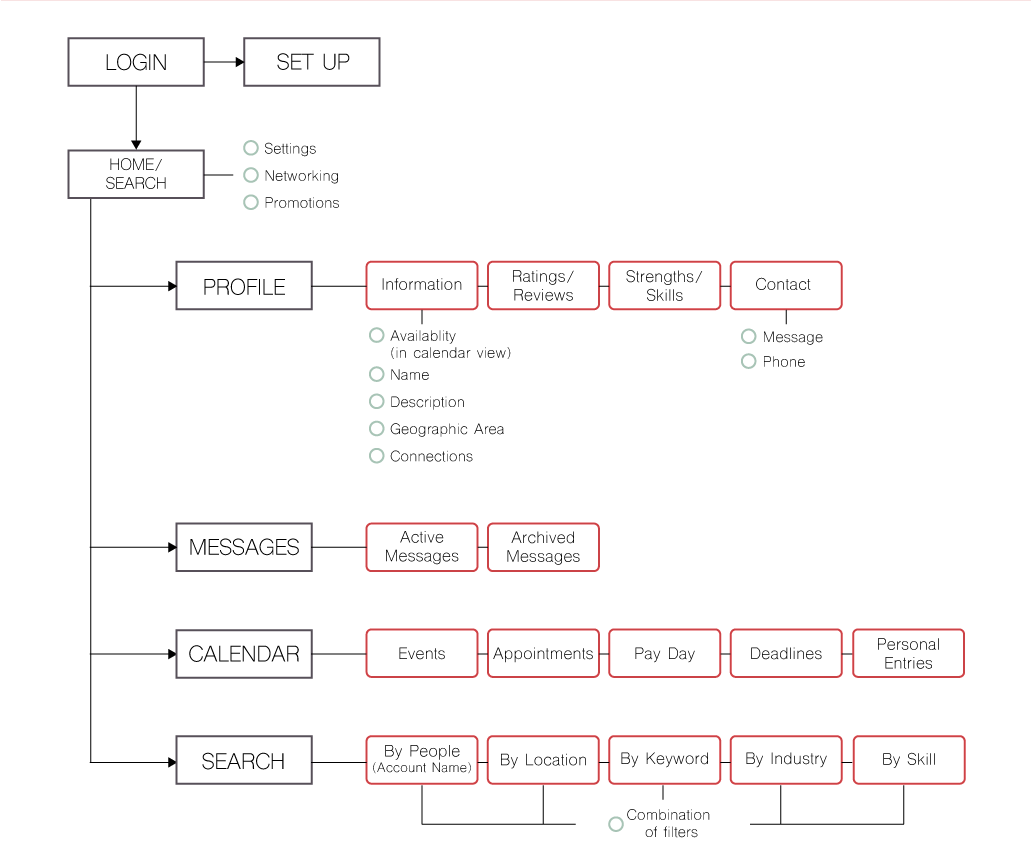 EXPERIENCE MAPS :
In this experience map, you can see a HireMe user going through a possible scenario (a new user looking to hire another user to help with a project in a positive experience. While not all experiences with other users will be a positive one, that is what customer reviews will be useful for). Opportunities to improve HireMe were found in each stage of the process because of this exercise.    

After sketching several possible navigation layouts, this one appeared the most logical with the data we were given from the surveys. The main navigation is at the bottom of the app (Home/Search, Messaging, Personal Calendar, and Personal Profile page. Secondary navigation  appears 1/3 of the way down the page to direct the user through each screen.